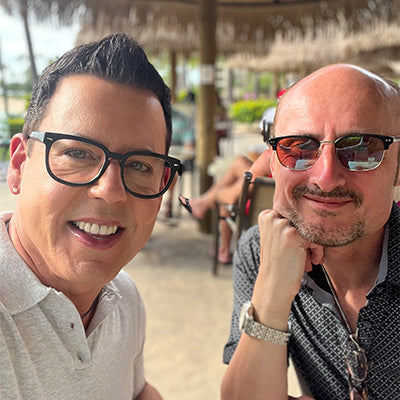 Growing up gay in Puerto Rico in the 1970's was not easy. Every day I outlined my plan, devising my future life in New York city, and as soon as I turned eighteen, I left my hometown, and family, and moved to New York. I was lucky enough to work in the journalism and fashion industry and continue my education at Parsons School of Design. I was finally able to accept my true self, free from the shackles of homophobia that had plagued my life in Puerto Rico.
I met my husband, Matthew, and eventually moved to Portland, Oregon, (with our five pets), where I began my education in the fragrance and candle making world. Creating fragrance that is non-binary is my passion. I envision a world where everyone is free to be themselves, without judgement, embracing the complicated nature of humanity. I am inspired daily to design candles that are visually stunning, are of exceptional quality, and embrace all genders.
I hope Candle Romance inspires you to love yourself, just the way you are.
With Love,
Michael